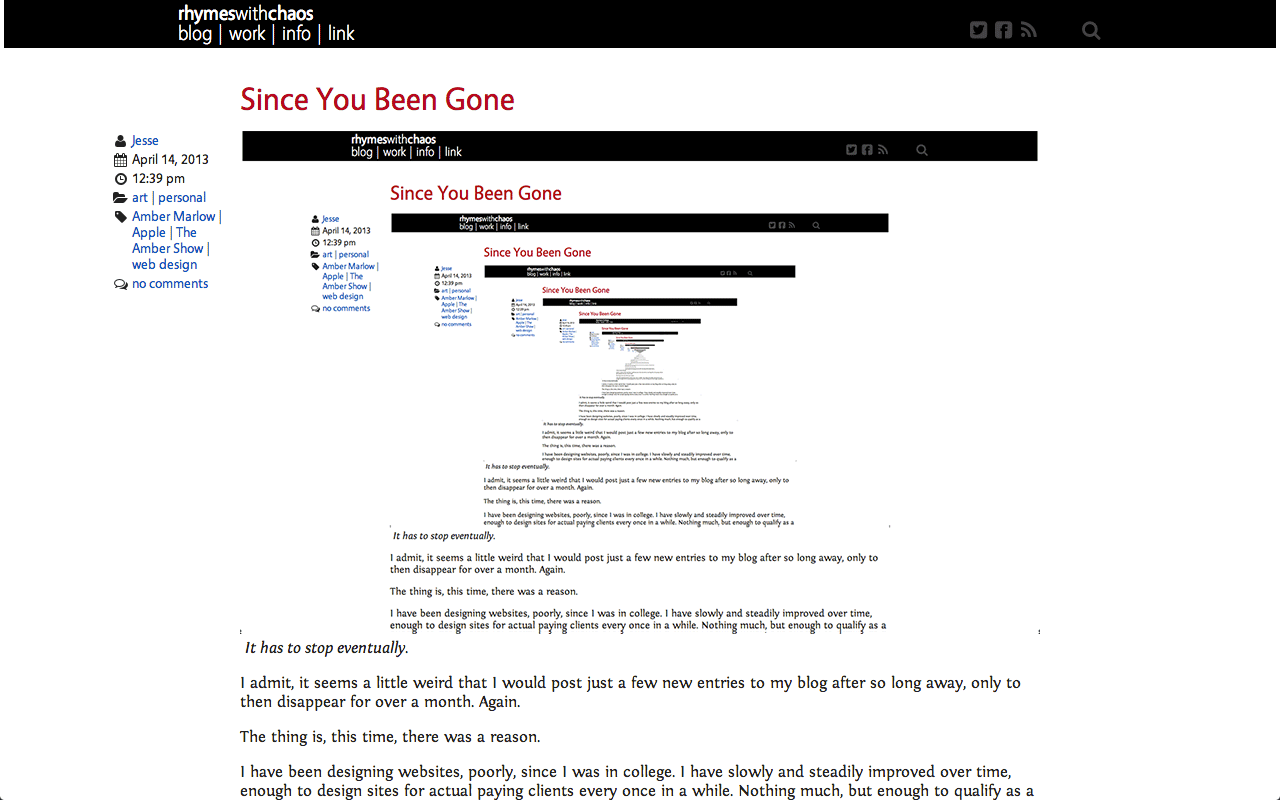 Since You Been Gone
I admit, it seems a little weird that I would post just a few new entries to my blog after so long away, only to then disappear for over two months. Again.
The thing is, this time, there was a reason.
I have been designing websites, poorly, since I was in college. I have slowly and steadily improved over time, enough to design sites for actual paying clients every once in a while. Nothing much, but enough to qualify as a semi-professional, or at least a competent amateur.
One of the reasons that I was pulled into posting on rhymeswithchaos again in the first place was the prodding of my friend Amber. She is a professional photographer and showy blogger, and she is generally not willing to give me any sort of break when I'm feeling down in the dumps about my creative output. Given that she creates for her job and then blogs for fun, I suppose I can see her point.
Due to some personal issues in Amber's life (which you can read about on her personal site), she desperately wanted a redesign for her blog. Since I happen to know a guy who does such a thing (I'm talking about myself), I volunteered him (me) for the job. It got pushed aside over the holidays, as she gave higher priority to other things. Once life settled down, though, she reignited her desire for a redesign, and I got down to work.
That was the beginning of my latest unplanned hiatus from my own blog. I did not want to spend the time to write an entry when I should be working.
(That does not mean I wasn't procrastinating, only that I wasn't procrastinating in a way that qualifies as constructive.)
As I worked to recreate her site, I relearned some important information that I had forgotten in the past year or so, since I had last worked seriously on a website. I also learned some new things, information that had probably been available but that I did not have the occasion to learn. And I got inspired.
This site was started when I needed a personal page built with Apple's iWeb to showcase for work, an example of how easy it was to build your own website. That version was terrible, mostly because the content management was atrocious. (I'm not going to pretend my initial design was worth a damn, but I knocked it together in a night while only half-paying attention, so it really came out about as well as it could have.)
After I lost that job and no longer had need to use the iWeb version of my site, I moved to WordPress for my content management and life got a little easier. Unfortunately, my first design on WordPress was pretty terrible as well, but at least it was mine, and it was a lot cleaner. Nevertheless, I quickly grew tired of it and decided I needed a change.
That's when I moved to the layout of the past few years. At the time, I was obsessed with percentage-based layouts, where the site would maintain its proportions regardless of browser width. (That I became obsessed with this idea after web traffic began moving to mobile devices is telling, and can be viewed as fairly representative of my history as a designer in general.) As a result, I designed my blog so that all three columns changed their widths dynamically. For better or worse, it was what I wanted, although I know now that the execution was sort of execrable.
That said, I believe that no artist is capable of looking at his own work with an objective eye. I know that I'm not; I don't think that I have ever finished anything creative that I didn't grow to hate over time. So it was with my old design, but for all its flaws it was functional and more or less effective at making my point, so I left it for a while.
Then, in the summer of 2010, I decided to redesign my site again. I started kicking around ideas and thinking about how best to do what I wanted.
And then I just… didn't do it. I don't know what that was about. I just left it for a couple of, you know, years, the enormity of the task seeming to grow over time in the way that things left undone will. I'd get to it eventually. Probably.
And then I got pushed into writing here again, while in the process of designing another blog. And that was that.
I don't know how long I am going to keep this layout; I have a lot more to learn about current web design tech, especially HTML 5 and responsive design, and some things might change in the future if I decided there is a better way. I don't have any particular plans, but you never know.
All that is the really, really long explanation of why I disappeared for over two months again. It won't happen again. Probably. But at least I finished something that I started.